THG Week in Review: June 12-18, 2010
Welcome to The Hollywood Gossip's Week in Review.
Below, we look back on the last seven days in celebrity gossip and Hollywood news. Visit us daily and follow THG on Facebook and Twitter for all the latest news, gossip, rumors, commentary and humor as it happens. In the past week …
After Tweeting an upskirt photo of Miley Cyrus, Perez Hilton defended his actions and basked in the publicity, while Miley performed on a pair of talk shows.
Former Party of Five and 7th Heaven star Jeremy London revealed that he was kidnapped at gunpoint and force to take drugs by some Palm Springs thugs.
Al Gore was accused of an affair with Laurie David. Her camp denied it, as did his (and as did the other guy she allegedly had an affair with while married).
Tiger Woods' cougar mistress, Theresa Rogers, says the golfer fathered her kid and paid her a huge settlement to keep quiet about their love child in 2004.
Devon James then made similar allegations.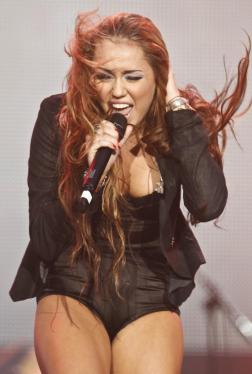 Perez supports universal health care, and possibly child … forget it.

Levi Johnston and Bristol Palin are apparently back together. We'll see if that lasts, now that Mercede Johnston, his sister, has debuted an anti-Palin blog.
With the one-year anniversary of Michael Jackson's death approaching, his insane father, Joe Jackson, blamed Katherine Jackson for it, and also AEG.
Meanwhile, Randy Jackson, Michael's brother, suffered a heart attack, and Katherine wants her former daughter-in-law and her kids out of the house.
Anna Gray and Shannon Price are battling for Gary Coleman's estate.
There are DUIs, and there is Chris Klein, driving absolutely plastered.
NFL QB Vince Young was arrested in a fight, then asked God for help.
Lindsay Lohan actually tested negative for drugs and alcohol!
Michael Jackson's parents both made news this week.
Robert Pattinson either dumped Kristen Stewart or wants to marry her, depending on the tabloid you read. In real news, she and Taylor Lautner are hot!
Ali Fedotowsky is getting serious with a number of guys on one of TV's highest rated reality shows, but The Bachelorette spoilers hint a shocking ending.
Speaking of eligible gals, will Kate Gosselin follow in Ali's footsteps?
XOXO: Justin Bieber and Kim Kardashian are totally Tweethearts.
Kate Middleton wedding and pregnancy rumors were shot down.
She's got talent, but is Alice Tan Ridley the next Susan Boyle?
Does it get hotter than Cristiano Ronaldo shirtless?
Congratulations to these happy couples!
Couples Watch: Rachel Bilson and Hayden Christensen split; Kate Hudson and Matthew Bellamy were linked; Is kingpin Cy Waits the future Mr. Paris Hilton?
Wedding Bells: Harrison Ford and Calista Flockhart tied the knot after eight years together; America Ferrera and Ryan Piers Williams got engaged after five.
Births, Deaths: Tiffani Thissen and Brady Smith welcomed their first child, a girl; May Jimmy Dean, country singer and sausage entrepreneur, rest in peace.
admin Television america, bristol, hollywood, lindsay lohan, love, piers-williams, tiger woods, week in review