Matt Lauer and his wife are shooting down reports of a split amid his cheating ways - with Alexis Houston, who claims to be Whitney's half-sister, the other woman!
Allegedly the other woman, and allegedly Whitney Houston's half-sister. Both parts of this story are suspect, to say the least. Especially after Whitney's rep said:
"Alexis Houston has no relation to Whitney in any way, shape or form."
Whitney's relative or not, Matt Lauer met Alexis Houston several years ago when she accompanied Whitney's real-life relative Dionne Warwick to the morning show.
According to Hollyscoop, Lauer reached out to Alexis as recently as the 2010 Olympics, saying she was apparently at the sporting event to sing in Whitney's stead.
Or not. "Whitney was never scheduled to perform at the Olympics," her rep said. Okay, great … so is there any truth to this sordid Matt Lauer affair or what?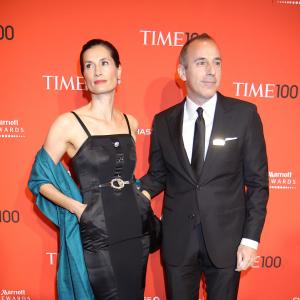 Was Matt Lauer cheating on his wife with Alexis Houston?
As for Alexis, her rep has denied the Lauer affair, saying: "Ms. Houston has never had any sort of relationship with Mr. Lauer and does not even recall meeting him."
Basically, Matt Lauer's had marital problems. But he's no David Boreanaz. Or Tiger Woods. Or Jesse James. You get the idea. In a statement, the Today host said:
"I am living in my apartment with Annette and my children as a family and a couple. I have never moved out. I am not moving out. There is no truth to that."
"Have we had a completely perfect, easy marriage? No," Lauer says.
"But the stories you read over the years are not true. I don't think we're any different than any married couple that's been together for 12 years. These accusations are ridiculous and I'm not going to [dignify] them with an answer. It's not true."
He calls the cheating allegations "ridiculous" and "offensive."
Interesting. Makes you wonder if there's a grain of truth in this somewhere. Added Annette Roque Lauer: "Out of self respect, I want to stand up for our family."
admin Television alexis, alexis-houston, cheating, children, david-boreanaz, dionne-warwick, houston, lauer, matt lauer, olympics, over-the-years, whitney, whitney-houston, wife